Always thought that celeb-worthy glossy locks were unachievable? It's time to welcome the Revolution Bond Plex range into your hair care routine!
Discover how to use our step-by-step collection of shiny hair products to promote a mirror-like glossy sheen that the stars pay hundreds for!
Why is Your Hair Dull?
Dull hair can look flat and lifeless. It often lacks moisture, body and shine leaving it looking truly lackluster. Some of the potential causes of dull hair include:
Diet – The nutrients in our food impact your entire body – including your hair! If you're not eating a healthy balanced diet, it can take its toll on your hair.
Too much sunlight – Like our skin, too much sunlight without protection can cause hair damage which leaves strands feeling dry and looking dull.
Heated styling – Similarly, styling your hair without using heat protection can frazzle strands, leading hair to lose its shine.
Using the wrong products – It's true, everyone's hair is different. If your hair type is naturally duller than others, you may need to switch up your hair care routine to help inject some glossiness into your locks. This is where Bond Plex comes in!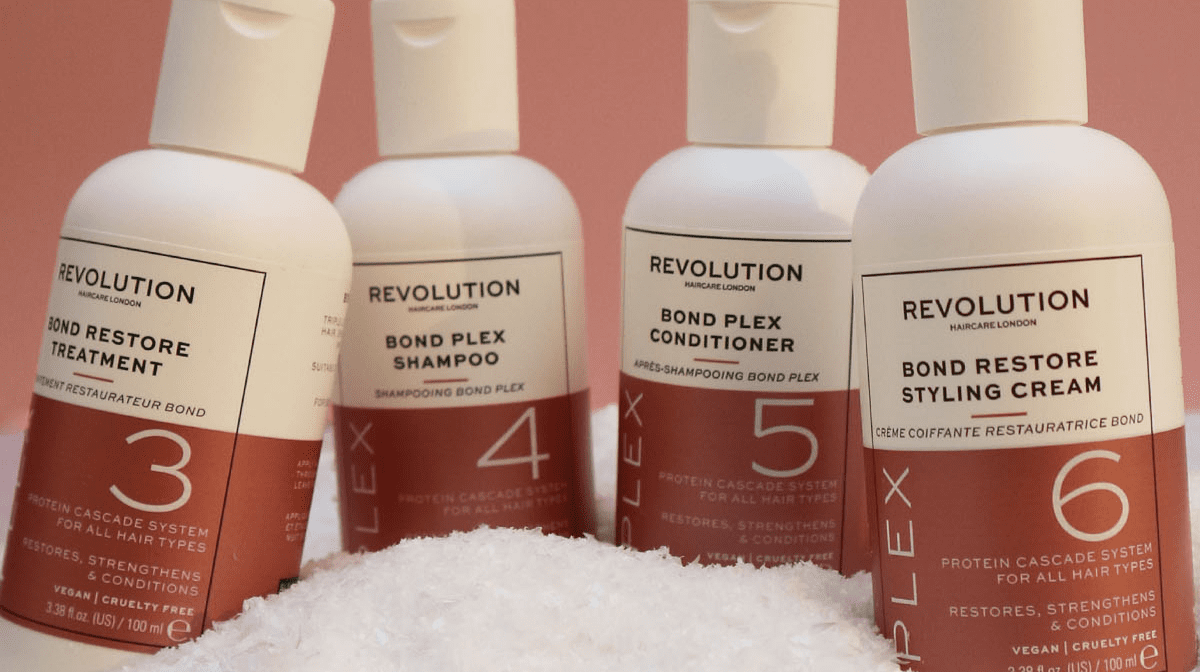 It's time for a good hair day with Revolution's Hair Plex range!
How to Get Shiny Hair – 5-Step Routine
It's time to discover how to brighten dull hair with the Revolution Bond Plex range.
We've got you covered with the ultimate glossy hair care routine to banish those lackluster locks once and for all!
Step 1 – Apply a Pre-Wash Glossy Hair Treatment (Plex 3)
You may think that shampoo and conditioner are enough to achieve that mirror shine. If you have hair that's on the duller side, you may need a few extra steps in your routine to get the sheen you're after!
A pre-wash glossy hair treatment is the first step to banishing the dullness and welcoming shiny hair!
The Hair Plex 3 Bond Restore Treatment is the perfect hair treatment to apply just before washing. It's fortified with a hair-loving plant protein system to enrich locks, alongside conditioning agents to promote softness and smoothness.
How to use: Once or twice a week, apply to towel-dried hair and leave for 10-15 minutes to work its magic. It can also be used as an overnight treatment if you're looking for some serious shine! Rinse thoroughly.