Wanting to add that extra edge to your makeup look? Why not try some graphic eyeliner? One of the biggest makeup trends this year, we have curated our 3 favorite and most bold graphic eyeliner looks for you to try out!
How To do Graphic Eyeliner: Our 3 favorite Graphic Eyeliner Looks
Classic and Clear-Cut: Black and White Cut Crease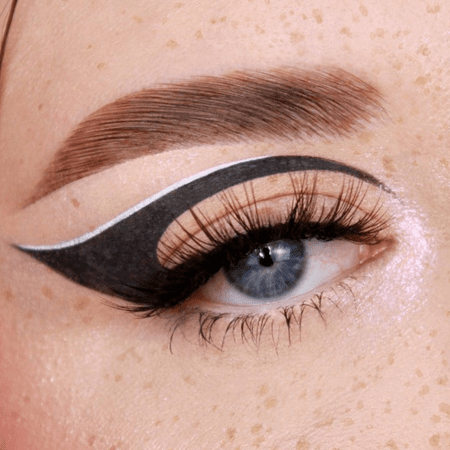 We love this black and white winged graphic eyeliner look for a more classic and totally wearable take on the graphic eyeliner trend, here's how to recreate the look –
Step 1: Using your Liner Pow Liquid Eyeliner extend a flick from the outer corner of the eye. The further you extend the line, the bolder your wing will be.
Step 2: Now bring the liner over the lash line. When you reach three-quarters of the way along, bend your line and bring the liner back over the crease towards your inner corner, creating a 'c' shape.
Step 3: Apply the liner to connect the tip of the wing to the line you've created along your crease.
Step 4: And that's the hard bit complete. Now just fill in the shape you've created with more of the Liner Pow Liquid Eyeliner until you have achieved full richness in color.
Expert Tip: Dip the Makeup Revolution Create Define & Fill Brow Brush R1 into your favorite concealer and use this to clean up any wobbles or smudges for a super sharp finish.
Step 5: To add your final touch, apply the Relove Kohl Eyeliner White to highlight to top of your wing. Graphic eyeliner look, complete!