Ok, be honest. When was the last time you cleaned your makeup brushes? We know it's one of the easiest jobs to put off, but it's important to clean your makeup brushes more thoroughly than a monthly rinse.  
At Revolution, we've got you covered with our expert's top tips, teaching you how to clean your makeup brushes correctly with our innovative Solid Makeup Brush Cleaner! 
Why Should You Clean Your Makeup Brushes?
Whilst it can be nice to treat yourself to a brand new set of brushes, there's something quite satisfying about cleaning your makeup brushes and enjoying that new brush feeling without splashing out. Here's why you should clean them regularly: 
Gets Rid of Germs
Dirty brushes are a breeding ground for bacteria – not what you want to be applying all over your face! 
Helps Reduce Breakouts
No matter the scale of your skincare routine, if your makeup brushes are dirty and full of bacteria, they will cause dirt to build up on the skin's surface, clog pores and trigger breakouts. Making sure your brushes are sanitized is key for clear skin! 
Smooth Makeup Application
It goes without saying, but the cleaner your makeup brushes are, the easier it is to apply your makeup. There's no better feeling than smoothing foundation, setting powder or blending bronzer with freshly cleaned makeup brushes! 
Elongate Your Makeup Brushes Lifespan
We've all got our favorite brush for each step of our makeup routine. Maintaining clean makeup brushes will help them last longer.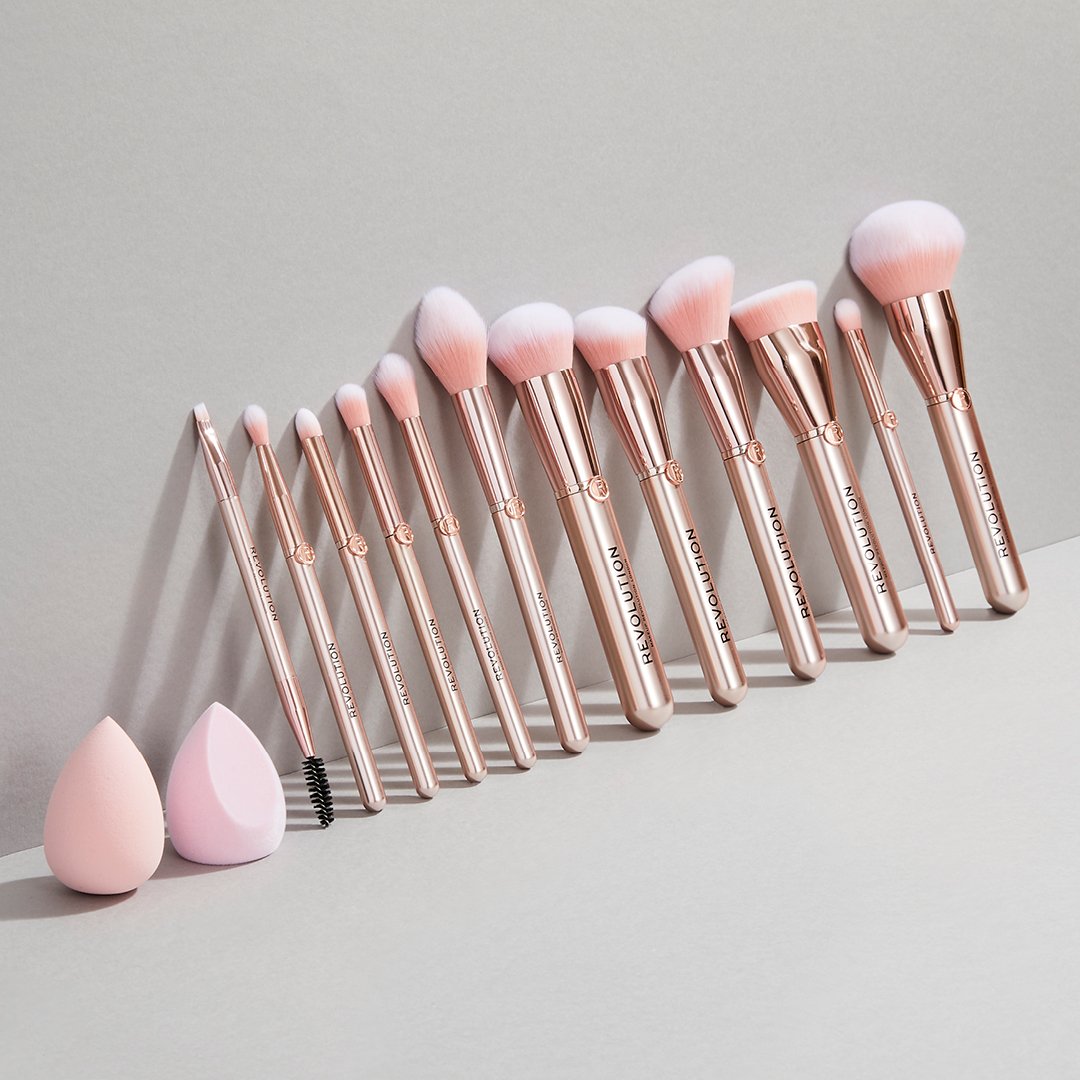 How Often Should You Clean Your Makeup Brushes?
The skin experts at Revolution Skincare recommend cleaning your foundation, concealer, contour, and bronzer brushes at least once a week. 
Your face brushes collect more product build-up and come into contact with your skin more than eye brushes, so require a more regular clean. Eyeshadow and eyeliner brushes can be cleaned around twice a month. 
When it comes to cleaning makeup sponges, you should ideally rinse it after each use, and give it a deep clean once a week.  
What is the Best Way to Clean Makeup Brushes?
So, if you've decided that you've been neglecting your brushes far too long (no shame, we're all guilty of it from time to time!), follow this simple guide and learn how to clean makeup brushes the right way! 
Rinse the brushes with warm water

 

Reach for your makeup brush cleaner of choice

 

Gently massage product through the brush bristles

 

Rinse your brushes thoroughly

 

Squeeze out the excess water with a clean towel

 

Re-form the brushes bristles back into their original shape so they don't dry mishapen

 

Let them air dry with the brush heads hanging off the edge of a counter. 

Expert tip:

 Don't leave your brushes to dry on a towel as the bristles may turn mildewy – gross!

 
Revolution Solid Makeup Brush Cleaner
Introducing your makeup brush cleaner savior! 
Our solid brush cleansing balm is an effective solution to achieving the cleanest, most hygienic makeup brushes. 
It's portable, fuss-free and convenient, taking all of the stress and effort out of achieving clean makeup brushes!