Glow getters, pay attention. Your skincare's about to get a whole lot juicier! Did you know that makeup isn't the only way to make your skin gleam? You can give your skin a natural luminance by including this mighty ingredient in your skincare: Vitamin C. 
So, put down the highlighter brush and discover how to enjoy the benefits of Vitamin C and give your skin an out-of-this-world glow! 
What Is Vitamin C?
When you think 'Vitamin C', oranges are probably the first thing that springs to mind. Of course, there's a tonne of Vitamin C packed into your morning glass of orange juice, but what actually is it? 
Vitamin C, also known by its fancy name Ascorbic Acid, is a powerful antioxidant.  
For those that need a quick science class refresher, antioxidants prevent or slow down damage to your cells caused by free radicals. This basically means antioxidants, including Vitamin C, help to keep your skin and body healthy.  
What Does Vitamin C Do for Your Skin?
There are so many amazing benefits of Vitamin C for skin that you probably don't even know about. No need to worry, Revolution will let you in on all the secrets… 
Boosts Radiance
Renowned for its skin brightening abilities, Vitamin C can make lackluster skin look fresh and radiant. Helping to give you that glow-from-within look!  
Evens Skin Tone
The brilliant brightening properties of Vitamin C can even help to lighten dark spots and hyperpigmentation, evening out your skin tone. This helps to enhance your complexion and leaves skin looking and feeling gorgeous!  
Protects Against Free Radical Damage
Although we all love some fresh air, there are some things our skin doesn't like about it. Sunlight, UV, pollution, and other environmental aggressors can all damage your skin and moisture barrier.  
One of the greatest Vitamin C skin benefits is that it helps to protect your beautiful skin from these aggressors and prevent damage.  
Prevents Premature Aging
Vitamin C for skin can also help to keep those early signs of aging at bay. It stimulates collagen and elastin production, promoting plump, youthful skin. You may not be worried about them yet, but it's never too early to ward off wrinkles (remember, prevention is better than cure)!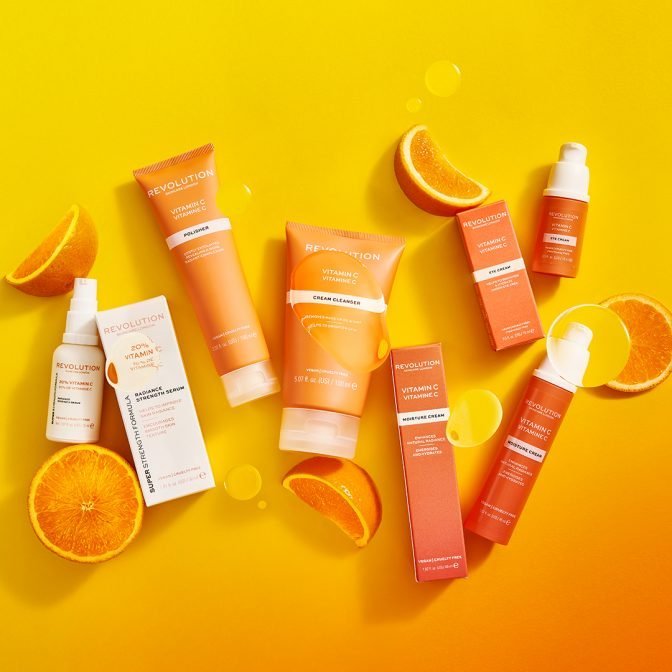 How to Use Vitamin C in Your Skincare Routine
Luckily, the skincare world understands the many Vitamin C benefits for skin and has made it super easy to add this hero ingredient into your skincare routine. From Vitamin C serums to Vitamin C eye creams, you'll be spoilt for choice.  
Vitamin C is safe for most skin types and can be applied once or twice a day. Due to its protecting properties, we recommend you put it on every morning to defend your skin throughout the day. 
Expert Tip: Don't forget to also apply sunscreen after your skincare every morning! 
What Ingredients are Vitamin C Compatible With?
You should avoid using AHAs (like Glycolic or Lactic Acid) and BHA (aka Salicylic Acid) with Vitamin C.  
Two of the most asked questions about Vitamin C for skin are:  
Can you use Retinol and Vitamin C together?

 

 

Can you mix Niacinamide and Vitamin C?

 
There's much debate when it comes to these two questions. To keep it short, you can use these ingredients together. However, we recommend sticking to Vitamin C in the AM and your Retinol and Niacinamide at night.  
Best Vitamin C Skincare Products
Let's take you through some of our favorite Vitamin C skincare products, so you'll be glowing in no time!  
Best Vitamin C Serum 
Vitamin C serums are available in a variety of concentrations. It's best to start low and build up when your skin is ready!  
The Revolution Skincare 3% Vitamin C Serum was made with beginners in mind. This gentle introduction helps your skin to build up a tolerance to this radiance-boosting ingredient. Revolution have got all those with delicate skin covered. This is also the best Vitamin C serum for sensitive skin.