One of the main objectives of any skincare routine is to prevent aging skin and help your skin stay glowing. Aging skin is part of being human, but if there's simple ways to prevent those fine lines and wrinkles becoming prominent, we want to know about it!
At Revolution, we have plenty of skincare must-haves for an anti-aging routine that can keep your skin look young, fresh and healthy for longer.
What Are the First Signs of Aging Skin?
Even though aging is inevitable, there are a few signs to look out for and target with your skincare routine to keep your skin refreshed and glowing. The most common signs of aging skin include:
Sagging/loose skin
Fine lines and wrinkles
Age spots
Dark undereye circles
Rough skin texture
Visible pores
Dullness
An effective anti-aging skincare routine works to minimize the visibility of all the above, helping your skin look and feel younger for longer.
When to Start Your Anti-Aging Skincare Routine
Professionals in the anti-aging skincare industry would advise that it is never too early to start an anti-aging skincare routine.
The first signs of aging skin can occur as early as your twenties, with fine lines starting to creep in around the eyes. As the skin around your eye is much more delicate and thinner than the rest of your face, this is usually where signs of aging begin.
Elastin measures start to decrease during your late twenties, meaning that sagging is more prominent. The rejuvenation of skin cells also starts to decrease at this age, justifying why an anti-aging routine is important.
Anti-Aging Ingredients:
With a never-ending selection of anti-aging skincare products to choose from, how do you know if you're choosing the right products for you and your skin type?
We are all different, and that goes for our skin too. It's important to understand what your own skin type is to be able to effectively manage your anti-aging routine so that you get the results you are looking for.
That being said, there are some well-known anti-aging ingredients that can help your skin look young and fresh for longer. Some of our favorites include:
Expert Tip: Although you can start an anti-aging skincare routine from the early age of twenty, it's important to understand what your individual skin type needs. Young skin can be more sensitive, therefore using less harsh ingredients would be beneficial.
If your skin becomes red, blemished or irritated due to a particular ingredient, stop using this and try something else, eventually you will work out what is best for you.
Not sure how these ingredients should be layered together? We've got you covered in our ultimate guide: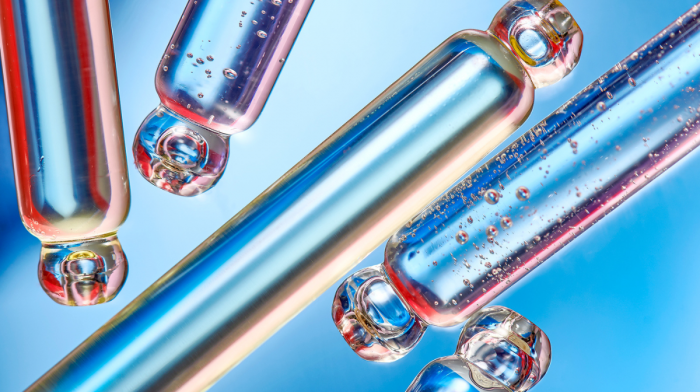 Healthy-looking skin is just around the corner with our ultimate skincare ingredient checker!
Step by Step Anti Aging Routine:
Step 1 – Sun Protection
Sun protection is a crucial step in any anti-aging skincare routine, whatever your age.
The SPF protection helps prevent UV rays from damaging your skin, which can rapidly increase the signs of aging due to a change in the elasticity of your skin.
Instead of tanning naturally, using a fake tan alternative would be beneficial for getting that glow long term, without any permanent damage.
Step 2 – Cleanser
Your skin is affected by toxins, pollution and UV rays whilst you go about daily life. It's important to cleanse effectively to rid your skin barrier of any impurities that your skin may have come across throughout the day. Here are our favorites for cleansing aging skin: