Whether you're a skinthusiast or a casual skincare user, you will have heard the word ceramides being mentioned. It's by no means a new ingredient and is in fact naturally occurring in the skin, which is where some confusion lies.
We're here to answer some key questions – what exactly are ceramides, what skin types are they best for, and what makes Revolution Skincare's Ceramides formulas stand out?
What are Ceramides?
Ceramides, simply put, are long-chain fatty acids (lipids) that make up around 50% of the skin's composition – they're essential for building structures in the skin; a glue that binds the skin together. The skin barrier is one of our first lines of defense in the skin – it controls what goes in and out, including water and cosmetics.
What are the Benefits of Ceramides in Skincare?
When the vulnerable skin barrier is damaged, the complexion can become dry and lose moisture, be prone to irritation and of course, expose it to microbial contamination. As well as this, as we age, our levels of ceramides natural decrease causing an increase in dry skin and fine lines. Applying ceramides through skincare formulas ensure the skin barrier is protected, moisture is locked in and the complexion is soft and supple. In a nutshell, it's an easy to use an ingredient that really delivers when it comes to hydrating, nourishing and smoothing the skin!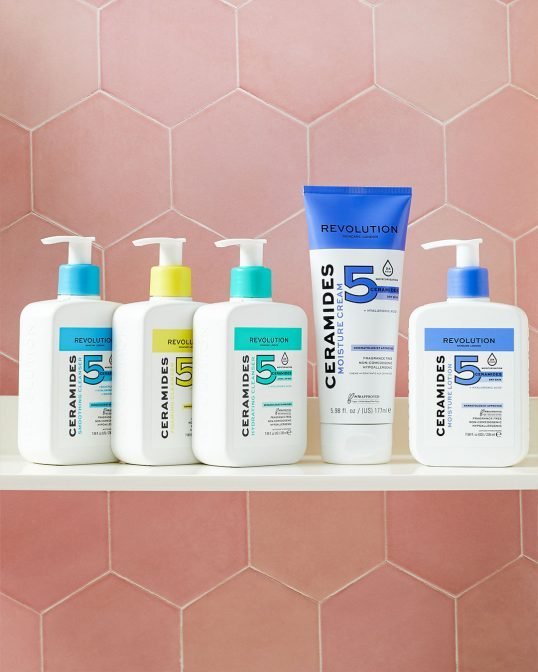 What Makes Revolution Skincare Ceramides Special?
So now you know what ceramides are, but what makes Revolution Skincare's stand out from other formulas out there? As you might have guessed from the packaging, our cleansers, creams and lotions contain a whopping FIVE ceramides for maximum protection and nourishment. Not only that, but all are dermatologist approved, offer 24-moisturisation, are non-comedogenic (so won't block the pores), fragrance-free, they're hypoallergenic (formulated to avoid triggering allergic reactions) AND they're Peta-approved vegan and cruelty-free, too.
Who Can Use Ceramides?
Ceramides are skin-identical ingredients, which means they contain compounds that mimic the composition of naturally occurring elements already found in the skin. So essentially, everyone can benefit from ceramides! However, here's the lowdown on different skin concerns that can really reap the rewards of ceramide-powered formulas:
Dry skin – Ceramides are lipids that will help to reinforce the bilipid layer in the skin barrier, reducing water loss, dry patches and helping to keep the skin soft and supple. ​
Dehydrated skin – As the skin barrier should be improved when using ceramides, moisture retention in the skin will be better, preventing dehydration. ​
Sensitive skin – When the skin barrier is compromised, skin is more likely to become red, sore and irritated due to external aggravation from wind, sun, pollution and microbial contamination. Ceramides help to keep the skin barrier intact, protecting skin from the elements, keeping it soft and supple, and reducing irritation potential. ​
Aging skin – As we age, our skin's levels of ceramides naturally decrease leading to skin looking and feeling dry, brittle, and fine lines look accentuated. With topical ceramide application skin will look and feel smoother and more supple. ​
Blemish-prone skin – Ceramides have excellent skin compatibility and won't be too heavy for the skin, they help keep the skin barrier intact and are crucial in preventing microbial contamination as well as enabling moisture levels to be adequately controlled and balanced.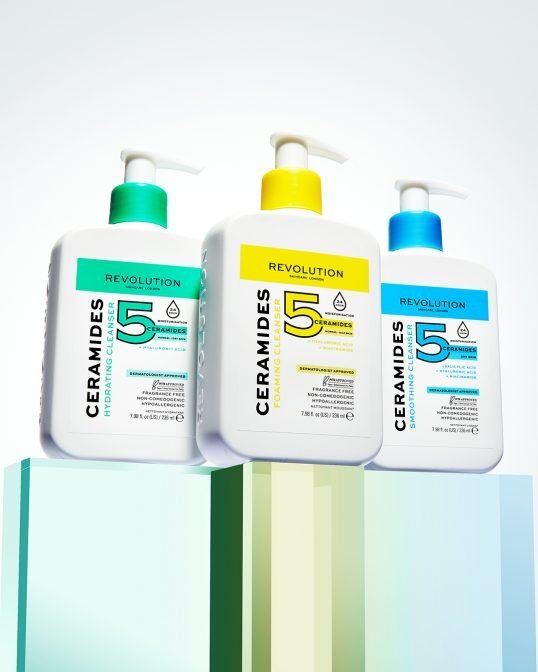 Which Ceramide Cleanser is Right For My Skin?
Now here's the really good bit! All of our cleansers are suitable for all skin types, however some have ingredients that could be super beneficial for different skin concerns.
Normal to Dry Skin
If you have dry skin, the Smoothing Cleanser or Hydrating Cleansers are the perfect choice.
The Hydrating Cleanser has Hyaluronic Acid in the formula too, for a deep cleanse that leaves the skin feeling soft, healthy and moisturized.
The Smoothing Cleanser contains ceramides with a super team of skincare ingredients – Salicylic Acid, Hyaluronic Acid and Niacinamide – to hydrate, control oil, minimize pores and help prevent blemishes too.